The history of Vipassana in Poland
The beginnings – the first course – year 2002
Everything started in February 2002. As a result of a long search conducted in various Vipassana centres, six people from different parts of the world met in Warsaw: four Poles, a Frenchman and an Indian. They had one common goal – to organize the first Vipassana course in Poland. Two people started translating the course materials into Polish, others were looking for a suitable location. In March, an AT from abroad came for a few days to meet the organisers and to see if the venue found in Przesieka, a small village in the Sudety Mountains, was suitable for a Vipassana course. As there was too little time to finish the translations and the recording of the discourses and instructions, a decision was made to have this first course only in English. It took place from 19 to 30 of June 2002. Twenty four new students and one old student participated in it. There were five Dhamma servers, including two from abroad. The course ran without any obstacles; the location was a good choice.
There is more information about the first two years of Vipassana in Poland in the first issue of "Wiadomości Vipassana" (February 2004) – available on the Polish website in bookmark "Newsletters". (In Polish only). https://www.pallava.dhamma.org/pl/starsi-uczniowie/newslettery/
The first decade – years 2002-2011
During the first ten years, courses were held in various rented locations throughout Poland, usually in boarding schools or recreation centres. In addition to Przesieka, where in the following years 2003 and 2004 three more courses were organized, they were:
Sosnówka, also in the Sudety Mountains – two courses in summer 2005;

Grzegorzewice – altogether five courses, but only in the winters of 2006 – 2009;

Bucz (five courses) and Starkowo (six courses) in the Wielkopolska region, in the summers of 2006 – 2010;

Piotrkowice Małe near Cracow – two courses in the summers of 2011 and 2012;

Krutyń in the Masurian Lake District – eight courses: two in the autumn and two in the spring of 2010 and 2011.
The number of courses was gradually increasing and, from 2008 onwards, there were five of them each year. In total, 32 courses were organized in Poland in the first ten years, with 1,809 people participating – 1246 new students and 563 old students.
Courses in Krutyń – years 2012-2017
At the end of the first decade, transporting everything that was needed to organize the course to various places, two or three times a year, proved to be too much of a challenge. It was laborious, time-consuming and expensive. In 2012, the last summer course took place in Piotrkowice Małe near Cracow, and immediately afterwards some old students had the opportunity to sit (for the first time in Poland) the Satipatthana course.
From 2013 until the opening of the Dhamma Pallava centre in September 2017, courses were held only in one place: in the village of Krutyń, a small resort town in the Mazury region; usually six per year – three in the spring and three in the autumn. The first course took place there in March 2010, and the last one in March 2017. In total, from March 2012 to March 2017, there were thirty 10-day courses and three Satipatthana courses in Krutyń. Every year, about 600 mediators participated in them. Unfortunately, in those years in Poland there were no courses available during the summer.
Likewise, during this period the material for a 3-day course for old students was prepared, children-courses initiated and the discourses and instructions for 20-day courses translated and recorded. So everything was ready for the Polish centre.
The history of building the centre – 2007-2017
As the Dhamma in Poland developed, the number of people interested in learning this technique of meditation slowly grew. There were more and more people willing to serve Dhamma and strengthen it in our country. The members of the Polish Vipassana Association (which later turned into the Polish Vipassana Foundation) began to think about building in Poland a centre where courses would take place throughout the year, and in much better conditions than in a rented place. Here is a timeline of the development of this idea and its implementation in practice:
2007
August 24-26 – decision taken
In Budapest, there was a meeting of organizers of Vipassana courses in Central and Eastern Europe. The AT who was responsible for Poland participated in it. It was decided there that new meditation centres in Europe would first be created in Poland and Hungary.
September and October – the search for a location
Thanks to a generous donation received after the summer courses in 2007, it became feasible to buy a piece of land for the future Polish meditation centre. Searching for the right place began. The members of the Association's Board viewed several plots of land reported by old students, and chose an area of 6.8 hectares (16,8 acres) located in the village of Dziadowice in central Poland. It was a beautiful, large meadow partly covered with trees and surrounded by forests.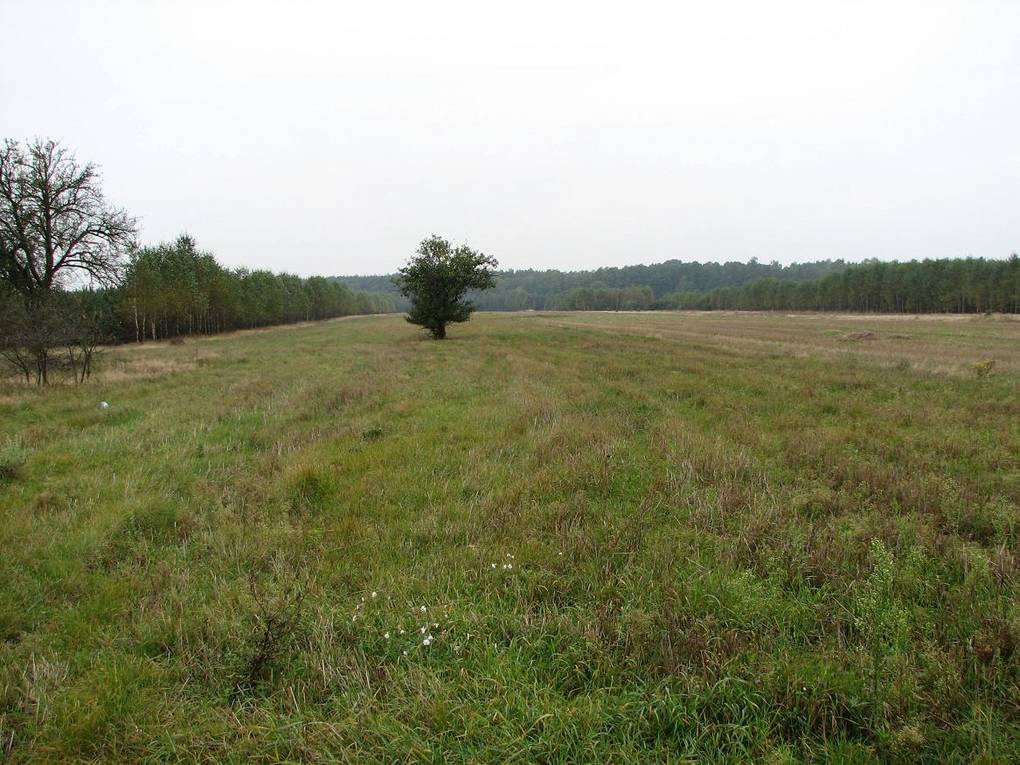 October 30 – place accepted by AT
An AT, who was a professional architect, came to visit Dziadowice. He examined the proposed area in the company of several old students, and accepted it as a suitable place for a Vipassana centre.
2008
January 16 – signing the land purchase contract
The price of land, including lawyer fees, amounted to 148,300 zlotys. There were three plots belonging to three different owners. Due to some special circumstances, one of the plots was to become fully owned by the Association only in 2010. So the payment for it was only 80% of the amount due, and the rest was paid in 2010. The purchased land was classified as agricultural, but had a very low class of soil. Later, for building purposes, it had to undergo a process of so-called recultivation.
May 10-11 – the first one-day group sitting on the Polish Dhamma land
It was recommended that regular one-day group sittings should be organized on Dhamma land. The students meditated sitting on the ground in the place where the centre would be constructed in the future. Initially, it was planned to buy a large Mongolian style yurt, heated in the winter, which would serve as a temporary meditation hall. However, this idea was abandoned due to the risk of damage or even theft being too high. A few years later, a large foldaway military tent was purchased for this purpose. As far as possible, such sittings were organized at least once a year.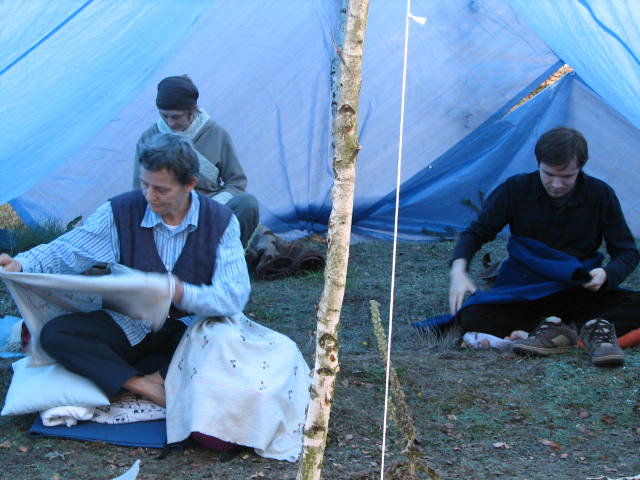 June 14-15 – the first working weekend
During the first busy weekend in Dziadowice, ten old students built a wooden fence which separated the area from the forest road. The wood for the fence came from a young grove, which required thinning anyway.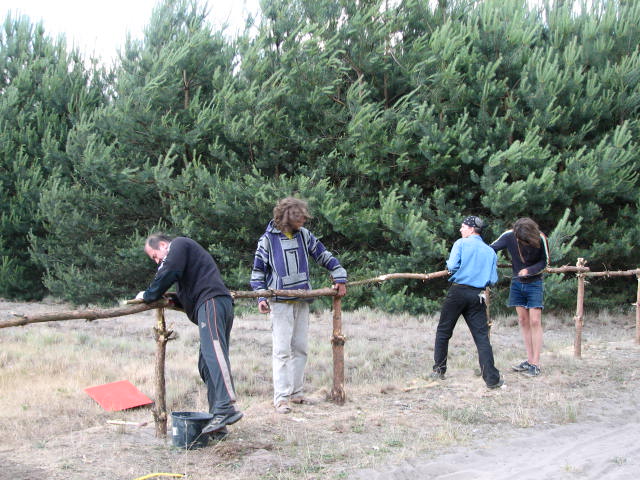 2009
May 2 – naming the centre
S. N. Goenka gave the name for the future Polish centre: Dhamma Pallava, which means "A sprout of Dhamma" or "A bud of Dhamma".
2010
July– finalizing the purchase of land
Formally, the process of purchasing agricultural plots was completed. Now it was possible to apply to local authorities for a planning permit.
September – first vision of the centre
The first general project of Dhamma Pallava was being developed. In this complicated task, the Polish Building Committee was helped by an AT from Germany, who had worked on the renovation and adaptation of Dhamma Dvara – the German centre. Dhamma Pallava was the first Vipassana centre in Europe, (not counting the ELCC - Dhamma Padhana) built from scratch. It allowed to plan a facility ideal for meditation, with no compromises required in relation to adapting existing buildings.
October 2 – preparations start
At the meeting on October 2, the Polish Vipassana trust decided to start preparations for the construction. The decision was made after consulting it with the Regional Teacher and the teachers responsible for Europe. In the first stage, a small, simple building was to be built, the so-called Dhamma House, that would allow one- and three-day courses for old students.
2011
May – the first concept of building the centre
After a series of web conferences and a two-day meeting in Dziadowice, the general project was clarified. The idea of building a small Dhamma House was abandoned. That first concept envisaged that:
Ultimately, there would be ten buildings (including six accommodation quarters for students – three for each gender).

The centre would accommodate up to 150 persons: 125 to 130 students, two to four ATs and 16 to 23 Dhamma servers. A few rooms would be designated for disabled people.

Initially, the rooms would be for two or three people. Later, some of them were to be remodelled and changed into single rooms – each equipped with a sink. Bathrooms were to be shared.

At first, three buildings would be created, which would allow to organize a course for about 42 students, with up to 14 Dhamma severs and two teachers.
2012
May 5 – work put on hold
At the meeting on May 5, the Polish Vipassana trust decided to postpone preparations for the construction of Dhamma Pallava. The funds were limited, and there were not enough old students ready to undertake such a huge challenge. To increase the number of courses and start the building process, in addition to gaining more financial means, a large and strong group of dedicated old students was also needed. This has always been an important stage in the development of the Dhamma in every country. It could not be omitted and no shortcuts were possible.
2013
May 30 – the first one-day course in a tent
On Dhamma land, in the place where the meditation hall would be built in the future, a large military tent was put up in which a one-day course for old students took place. The course was conducted by the ATs who have been appointed Centre Teachers for Dhamma Pallava since the beginning of 2013.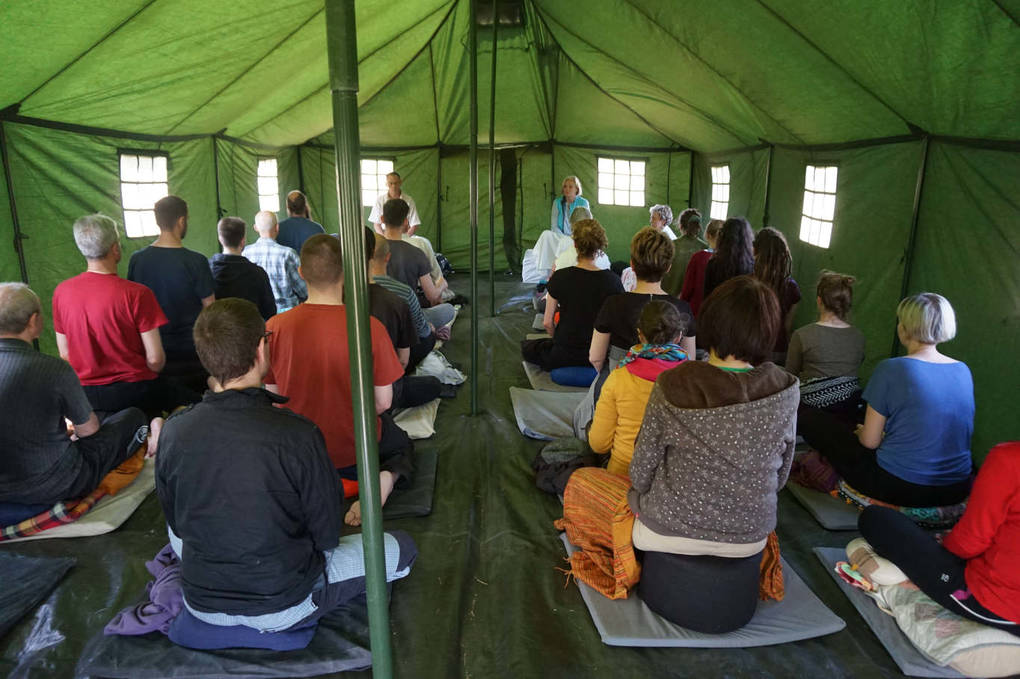 September 14-15 – another working weekend (one of many)
This time all the plans were completed. First of all, many self-sown birches which grew up were removed from the future construction site. It was necessary because later they would be much more difficult to grub up for legal and practical reasons.
2014
March 8 – decision to build in two stages
After a nearly two-year break, at the trust meeting on March 8, a decision was made to resume work on the establishment of Dhamma Pallava. Due to the limited funds, it was not possible to build the entire centre at once. Work was therefore planned in two or more stages. The aim of the first stage was to create a fully functional small centre, consisting of four buildings – an office, a kitchen with two dining rooms and two accommodation buildings. A temporary meditation hall would be in one of the dining rooms. This concept would allow courses throughout the year for 66 students. The second stage would double the capacity.
June – appointment of Executive Committee for construction
The committee received from the trust a mandate to make operational decisions related to construction. Three people, kept informed about the progress of work, could make decisions faster and more efficiently than a nine-person trust. It was decided to employ an architectural office that would prepare all the documents needed for the application for planning permits.
August – buying two forest plots
To ensure a more friendly environment, two adjacent plots were bought – one from the north and one from the south. The area increased from 6.8 ha to about 10 ha (24.7 acres). This allowed, among other things, to create large comfortable walking areas for students. It also protected the area from potentially noisy neighbours.
2015
February – getting a planning permit for phase I
The District Authorities in Malanów issued a decision on a planning permit for the first four buildings. A difficult and laborious phase began, requiring a lot of decisions – from the choice of building materials to the selection of heating solutions, the wastewater treatment system, and many others.
May – decision to build the centre in one phase
The plans changed again. The trust (together with the main donors) decided that all the buildings would be built in one phase, that all rooms would be single and on-suite (both for students and servers) to provide ideal conditions for meditation and serving. The center, consisting of ten buildings, would then be able to accommodate 110 students, 24 servers and 4 teachers. Later, however, it turned out that because of some complicated legal regulations, the whole construction process still needed to be formally divided into two phases.
September – choice of architect
After a bidding procedure, in which nine architectural offices participated, the trust chose the main architect. In the next three months he prepared the multi-volume detailed documentation of the construction project, required to obtain a building permit.
December – submitting an application for a building permit for phase one.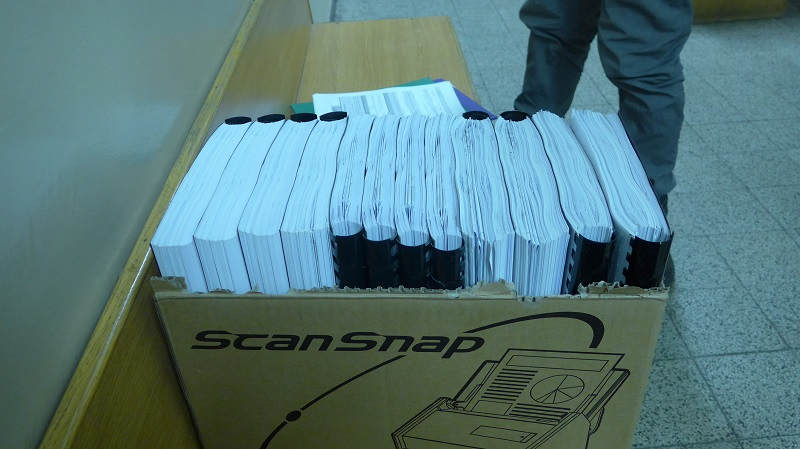 2016
May 16 – getting a building permit for phase one (four buildings)
This was seriously delayed due to some unexpected problems with decultivation of the land, which was a prerequisite for obtaining the permit. Almost 2,5 ha of the land (out of 10 ha), where the buildings would stand, had to be officially decultivated. Normally this necessary procedure is free of charge for the actual class of soil on the site, but it turned out that the land, although classified as infertile, had also been classified about 50 years ago as organic soil, which is extremely rare in Poland and is therefore under protection. Still, decultivation was possible, but extremely expensive. Unsuccessful attempts to find a solution to avoid this horrendous fee took a few months and delayed getting the building permit. The ten yearly installments will have to be paid.
June 16 – buying two mobile homes for servers
In accordance with tradition, started when Dhamma Giri was being built, a few old students would stay on-site and meditate during the entire construction time. Usually there were four of them (two women and two men). It was also contractors' prerequisite that someone from the investor's side must be there all the time for security reasons. For this purpose, two comfortable mobile homes (one for females, the other for males) were bought and installed on site. Each had a small sitting room with a kitchenette, two bedrooms and the bathroom. They were resold later when servers were able to stay in the first finished buildings.
June 17 – start of the construction. The work started with surrounding the whole site with a metal fence for safety. Then the foundation slab was laid for the first accommodation building. Three weeks later the bricklayers stepped in.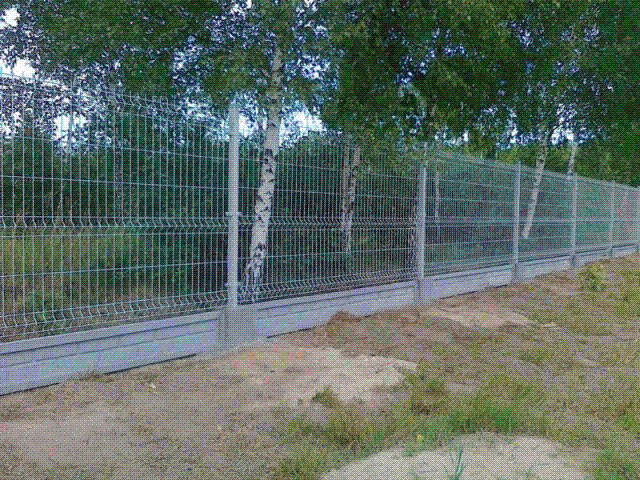 August 25 – getting a planning permit for phase two (remaining six buildings).
September 13 – submitting an application for a building permit for phase two.
September – two accommodation buildings and the office building had roofs, the walls of the kitchen and dining halls were being put up. Windows were being installed in the first two accommodation quarters.
September 30 – getting a building permit for phase two
November – four buildings had roofs, the walls of two next were being built. Three buildings had windows and doors installed, and two had a functioning heating system.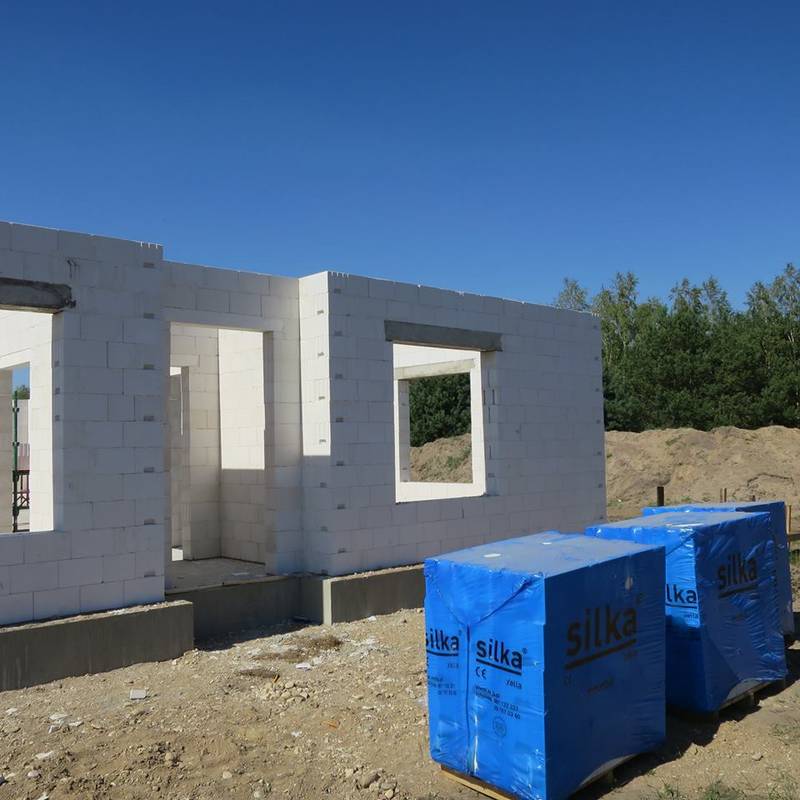 2017
In the winter, work continued inside buildings No. 1 (office), No. 2 (kitchen with dining rooms) and No. 3 and 4 (accommodation for students). Works carried out outdoors, related to the construction of buildings No. 9 (meditation hall) and 10 (house for teachers) and the completion of buildings No. 5 and 6 (living quarters) were set aside for the spring due to weather conditions.
March 26 – the last Vipassana course organized in Krutyń ended. All the things were transported to Dziadowice.
April
Eight out of ten buildings had roofs, although they were in various stages of completion. The last two accommodation quarters for students (buildings No. 7 and 8) were being put up.

Choosing an electricity provider.

Sewing curtains for windows; preparation of additional meditation cushions and covers;

Carpentry work, building beds.
May
Cutting trees in future walking areas; first gardening works, sowing plants, planting shrubs.

Getting a building permit for 66 meditation cells. Although the Dhamma Hall was built with the space intended for them, due to financial shortages, the complex of cells will be finished much later as they are not a necessity for a ten-day course centre.
June – intensive finishing and installation works in all buildings.
July – installation of beds in rooms, painting beds and shelves, preparation of walking paths.
August – cleaning, preparing the centre for use, furnishing the kitchen, offices, cleaning the whole area. Finishing bathrooms, installing bathroom accessories.
September 5-9 – In those days an inaugural three-day course was planned, which unfortunately had to be cancelled because the centre was not fully ready for use. The sound system and the floor in the meditation hall were still missing, and some bathrooms in individual rooms still required finishing touches. There were also many smaller works to be done.
September 10 – Open Day in Dhamma Pallava. It was organized for friends, families and members of the local community to let them know what the purpose of the centre is. About a thousand visitors appeared. A detailed account of the day is available in an article written for INL (Vol. 45, 2018, No. 1) (https://news.dhamma.org/2018/02/polands-dhamma-pallava-opens-for-courses/ )
September 13-24 – first 10-day course in Dhamma Pallava